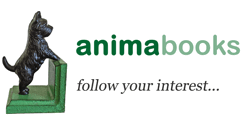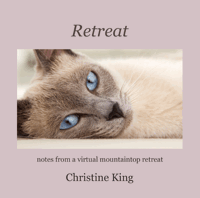 Retreat
notes from a virtual mountaintop retreat
Christine King
Published by Anima Books, 2022
Printing & Distribution: Lulu Press
PRINT edition
ISBN: 978-1-4717-3368-0
Paperback, 7.5 x 7.5 in. (190 x 190 mm), 72 pages
RRP (USD): $14.95
RRP (AUD): $20.30
eBOOK edition
ISBN: 978-1-4717-0955-5
Epub
RRP (USD): $7.11
RRP (AUD): $10.01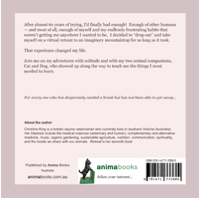 Back cover:
After almost 60 years of trying, I'd finally had enough! Enough of other humans — and most of all, enough of myself and my endlessly frustrating habits that weren't getting me anywhere I wanted to be. I decided to "drop out" and take myself on a virtual retreat to an imaginary mountaintop for as long as it took.
That experience changed my life.
Join me on my adventures with solitude and with my two animal companions, Cat and Dog, who showed up along the way to teach me the things I most needed to learn.
For every one who has desperately needed a break but has not been able to get away...
About the author
Christine King is a holistic equine veterinarian who currently lives in southern Victoria (Australia). Her interests include the medical sciences (veterinary and human), complementary and alternative medicine, music, organic gardening, sustainable agriculture, nutrition, communication, spirituality, and the bonds we share with our animals. Retreat is her seventh book.
BISAC main category: BODY, MIND & SPIRIT / Inspiration & Personal Growth
BISAC category 2: BODY, MIND & SPIRIT / Mindfulness & Mediation
BISAC category 3: BODY, MIND & SPIRIT / New Thought
Excerpt from the Prologue:
... At first I was there on my own, which was exactly what I wanted. A short while later, though, a cat suddenly appeared in the hut, curled up comfortably on the narrow bed where I slept, as if he'd been there all along. He was one of those svelte, lavender-point Siamese cats, which was incongruous and a little amusing because I've never owned such a cat; I'm not sure I've even met one! This cat, whom I still think of as just Cat, taught me perhaps the most important thing I've ever learned about the art of being.
PRINT EDITION
this button takes you to the book's page on Lulu.com
eBOOK EDITION
this button takes you to the e-book's page on Lulu.com