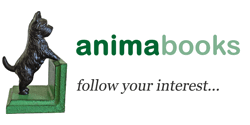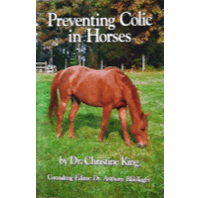 Preventing Colic in Horses
Dr Christine King
Consulting Editor: Dr Anthony Blikslager
(Paper Horse, 1999)
Publisher: Paper Horse, 1999
Printing & Distribution: out of print
Original ISBN: 978-0-967-4926-0-2
eBOOK edition:
PDF, 180 pages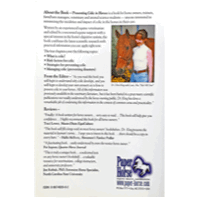 Preventing Colic in Horses is a book for horse owners, trainers, farm/barn managers, veterinary and animal science students — anyone interested in minimizing the incidence and impact of colic in the horses in their care.
Written by an experienced equine veterinarian and edited by a renowned equine surgeon with a special interest in the horse's digestive system, the book combines the latest scientific research with practical information you can apply right now.
The four chapters cover the following topics:
* What is colic?
* Risk factors for colic
* Strategies for preventing colic
* Managing colic (preventing disasters)
From the Editor — "As you read this book you will begin to understand why colic develops, and you will begin to develop your own answers as to how to prevent colic in your horses. All of this information was previously available in the veterinary literature, but it has been buried in a great many scientific publications not readily understood by the horse-owning public. Dr King has done a remarkable job of condensing this information in the context of common sense and practicality."
Reviews
"Finally! A book written for horse owners ... very easy to read ... This book will help give you confidence ... I highly recommend this book for all horse owners." Traci Lower, Mason-Dixon EquiCulture
"This book will fill a large void on most horse owners' bookshelves. Dr King presents the material in layman's terms ... I urge you to invest in this book. ... there should be a copy in every barn." Hallie McEvoy, Horsemen's Yankee Pedlar
"A fascinating book ... easily understood by even the novice horse owner." Pat Ingram, Quarter Horse Journal
"This is truly a unique book ... a welcome text on any horse owner's bookshelf ... a valuable resource for veterinarians, college instructors, and university professors." Jim Kubiak PhD, Extension Horse Specialist, North Carolina State University
This book is out of print. Through the Looking-Glass will take the place of a revision. In the meantime, the original text, with minor revisions made in 2016, is available as an eBOOK (PDF).
eBOOK EDITION
USD: $9.88 | AUD: $13.85